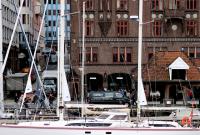 More bad news came this week as crew members of the MS Vesteralen were informed that their ship would be removed from service when it returns to port in Bergen on 6 November. This is the latest vessel to be mothballed by Norway's famous coastal shipping company Hurtigruten as it struggles to control spiralling financial problems.
Hurtigruten operates its ships along the northern coast of Norway, beginning and ending each voyage in Bergen. The shipping company's management warned its employees two weeks ago that it would have to dry dock two more of its vessels if the Norwegian government couldn't come to its rescue with additional financial aid.
The newspaper Aftenposten reported that Hurtigruten has been pushing the Norwegian government for more funding to cover its traditional routes that stop at dozens of small ports along the coast. It is expensive to maintain the daily stops at all these remote ports, and the government has been coughing up NOK 250 million per year to ensure the these ports remain serviced throughout the year.
But Hurtigruten contends that the state's money isn't enough to cover the expense of the service, and is demanding more. Proving that Hurtigruten isn't throwing out idle threats, it will lay off another yet to be named ship and its crew in the near future. Another vessel, the Nord-Norge, was dry docked just a few weeks ago.