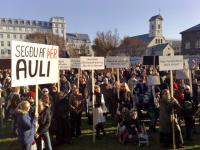 Today, Saturday, at 16.00 Icelandic time a torch bearing procession will make its way from Austurvollur (the square outside the national parliament in Reykjavik) to Radherrabustadurinn (the house where cabinet meetings take place) under the banner "breaking the Authorities' silence".
"Everybody should meet at Austurvollur, to meet like-minded people, to show that we have a voice; that we exist. We meet to show each other support, to show that we stand together, and, if nothing else, just to show that we are not alone – and that we care," the organisers' announcement says.
True to their word, organisers of last Saturday's protest said they would hold the protest every week until they feel the Government and the Central Bank are listening to the people on 'Main Street'.
Many people have already confirmed their intention to attend the protest and several organisations and unions have sent the message to their members: among them, the Progressive Party youth movement, the Left Green Party youth movement and the Feminists' Association. The head of the Women's Rights Association and the head of the Consumer Rights Association have also confirmed their attendance.