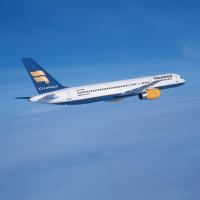 With the dramatic rise in value of the US dollar against the Icelandic krona, American visitors to Iceland now have nearly twice the spending power compared to last year.
In August, USA TODAY picked Iceland as one of the Top 5 destinations for travel in Fall 2008. Since then the dollar has become even stronger against the krona, increasing in value by over 25%.
Icelandair is inviting passengers to take advantage of the exchange rate by offering round trip flights to Iceland from Boston or New York for $399. The 'Winter Airfare Special' is valid for travel from November 1st 2008 to March 31st 2009 with all flights booked by October 31st.
The Icelandic airline also has vacation packages from Boston which include round-trip airfare, discount shopping card, 3 nights at the Hilton Reykjavik Nordica with breakfast and free shuttle service to the old town and the Kringlan Mall.
The 'Iceland Winter Frenzy' package starts at $559 and is valid for travel between November 1st and December 15th 2008. The package must be booked by October 31st 2008.
For more information on Icelandair special airfares and packages to Iceland, visit www.icelandair.com.
(Advertisement)