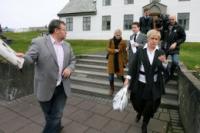 Five top Icelandic politicians met today at 2pm Icelandic time to discuss the matter of dealing with the present economic situation in Iceland, MBL reported.
The negotiation was attended by Geir H. Haarde, the Prime Minister, Arni Matthiesen, the Finance Minister, Bjorgvin G. Sigurdsson, the Minister of Trade, Ingibjorg Solrun Gisladottir, the Minister of Foreign affairs and Ossur Skarphedinsson, the Minister of  Industry.
Sigurdsson said that he could not verify whether the International Monetary Fund (IMF) being asked to help the economic crisis, and he would not be pressed on the question of when IMF money would arrive if it were sought.
Some top ecconomic figures in Iceland have been saying that if Iceland is to keep its head up and get out of this situation, the IMF needs to get involved in the country.