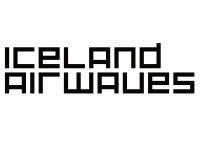 I talk to you now from a strange period in which Iceland Airwaves is officially over but the off-venue events continue. It is a sort of gentle comedown. A way of getting back to normal life without crash landing.
Tonight sees the Nasa final Airwaves Party, an event to see this year's festival off with a bang.
The truly wonderful off-venue events at Café Rosenberg continue all day and evening today as well. The place was packed yesterday with appreciative, enthusiastic music fans. The hush that descended over the place while Lay Low played her set showed respect nothing short of reverence. And she deserved it too. If Lay Low was good the other night at Nasa, then she was even better at Rosenberg. It may not be that she played any better, but merely because the location suits her so much better.
Dísa was also on the bill, and provided more of the same mix of gritty Morcheeba-style attitude and the angelic purity of voice. Again, the location suited and the crowd appreciated.
Singapore Sling is a particular live favourite of mine. Their drone rock sounds simply terrible on a car CD player; but on stage they have a strange ability to fill the room with infectious atmosphere like a hosepipe fills a swimming pool. Singapore Sling is a band that temporarily transports the listener to a simpler place inside their own mind: a place where all there is to do is carry on listening to the music.
If this sounds confusing, that's probably because Singapore Sling is somewhat confusing too.
At the other end of the scale DJ Hero's Trial at Bar 22 made for a great antidote. Playing what I'd describe as thoughtful techno, this DJ seems to really feel the audience, meaning 22 got what it wanted and partied hard. It would be interesting to compare this set to one played at an international super-club. Could DJ Hero's Trial simultaneously connect with that number of souls? Mmm, deep, man…
I sincerely hope you've enjoyed Airwaves this year and that you will make the effort to be here for it next year. It really is a one-in-a-million sort of event with its own unique energy, atmosphere and style.
Thanks for reading,
Alëx, IceNews editor
Icelandair sponsors Iceland Airwaves and has done for all of the event's ten glorious years. Icelandair connects Iceland with 24 top European and North American destinations, and frequently offers the cheapest transatlantic fares as well. More information can be found at www.icelandair.net