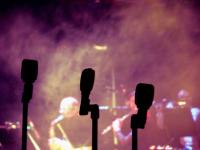 Last night saw town filled to the gills with funseekers, both of the Iceland Airwaves wristband wearing variety, and of the other sort too. And as Airwaves generates its own veritable fringe festival on the side, everyone can appreciate live music without paying for the privilege.
A good example of this is the new café Rosenberg, opened recently as a replacement for the popular old café which burned down last year. Rosenberg is celebrating Airwaves with an extensive programme of live music, including the anonymous ukulele girl I saw there yesterday evening. I wouldn't have believed Eurythmics, Justin Timberlake and Haddaway could sound so spellbindingly angelic and charming. But the girl's versatile voice box doubtless helped in that regard.
Next it was Dikta, on-venue at Hressó. Despite the rather small crowd, largely made up of band members' friends, they really rocked. Dikta play intelligent rock, with piano, tribal drumbeats and strong, hearty guitar backup. With a couple of radio hits to their name, I was pleased to be able to sing along; but just as pleased with the material I'd never heard before.
These New Puritans are an indie band from the UK. Their accomplished set got the crowd going and the crispness of their sound filled Nasa like a refreshing wave of noise. But, I have to say that as much as I enjoyed These New Puritans at the time, they have since become a tad forgettable.
Then I made the mistake of leaving Nasa and trying to come back in for Motion Boys. Unfortunately all I got to see or hear of Motion Boys was the queue outside the venue. Quite a pity.
But made up for by Ultra Mega Technobandið Stefán. If you've been keeping up with these columns, then you'll know I already saw them on Wednesday; but that doesn't mean I regret seeing them again!
This time though, there was a real energy in the place – not just from the band, but from the crowd. We gave as good as we got, it would seem. So it was, with sore toes, elbowed ribs and wet with sweat, that I left Nasa with a wide grin and a thirst for more.
Let's see what tonight brings.
Iceland Airwaves is sponsored by Visit Reykjavik, the creators of the successful "Reykjavik – Pure Energy" campaign. The useful www.visitreykjavik.is is crammed full of information on Reykjavik and regularly updated events and festival previews. As well as www.visitreykjavik.is, visitors can also visit the tourist centre at Ingólfstorg in the city centre.