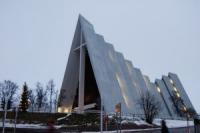 In the end it was the price tag that sank Tromso's bid for the 2018 Winter Olympics. In these uncertain economic times, nearly every organisation in Norway and most Norwegians themselves could not justify the costs over the possible benefits of hosting an Olympics. As a result, the head of Norway's Olympic governing body, Tove Paule, made the announcement that Norway was withdrawing its application.
Speaking to the newspaper Aftenposten, Sven Even Maamoen, spokesman for the regional sporting organisations, simply said: "It's going to cost too much". After discussing the new price tag to host the games with sports leaders from around Norway, the only ones still enthusiastic were from the country's three northernmost counties.
There were those in the government, however, who tried their best to keep the dream to host the 2018 Winter Olympics alive. Norway's Centre Party places a lot of focus on supporting projects in the country's more remote areas. Liv Signe Navarsete, the leader of the Centre Party and Norway's Transport Minister wanted to postpone the decision to withdraw the application to give the nation more time to consider its options.
Even the religious sector got involved in the struggle. Local Tromso bishop, Per-Kristian Kjolaas, went straight to Jens Stoltenberg the Prime Minister and asked him to delay the withdrawal – but to no avail.