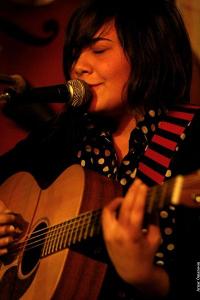 Thursday night was a good night. The weather was not playing fair, but the crowd certainly was. I have to confess, however, that some of my choices left me a little underwhelmed.
First I saw Soundscape at Nasa. Soundscape is a band billed as a cross between Coldplay, Keane and Muse. But I fear any band trying to mix all three together would be doomed to miss the vital elements that make each what they are. If Keane and Muse got together, they would surely cancel each other out? So it turned out with Soundscape. Although the music was a cross between the three bands, it felt like they were actually trying to become Sigur Rós. Soundscape were as accomplished and professional as all the bands I've seen at Airwaves – but not a lot else I fear.
Next I trolled off to Organ to see Finn, the German solo artists with his "far out tunes from the next decade". Maybe it's the credit crunch; but the next decade sounds pretty dull. Finn's performance was not helped by the quiet, intimate nature of his material and the small screaming group of Americans at the bar not listening to him at all. Finn's falsetto vocals annoyed rather than intrigued – but I would be willing to try out his CD. I feel he might be able to conjure different emotions in the privacy of my living room. But not on stage at Airwaves.
Dísa was quite a different affair. Boy can that girl sing! Accompanied by a band, Dísa managed to enthral the large crowd from start to finish. The music itself is pleasant, tuneful and frankly not life changing – but the lady with the voice is probably an elf or something. Recommended.
El Perro Del Mar, on the other hand was quite the surliest, droning, long-winded and repetitive Swedish solo artist I have ever seen. Especially as there were two of them on stage…
She only spoke to tell us to be quiet; but we were only loud because her songs were so long and repetitive. Don't get me wrong though, she is a gifted pianist and her and her friend can both sing and play guitar really well. And I loved his foot-accordion thingy. But I'm sorry to say the young ABBA rejects (concerning their appearance, not just their nationality) failed to impress.
From one extreme to the other, again – Lay Low came next to play a few old favourites and picks from her brand new second album. And she really does have a unique voice, and I mean that in a good way. She has also taken her country style to a new level with the latest offering – something I am always wary of. But in Lay Low's case, country is a wolf in lamb's clothing – not only different to initial expectations, but also comes with teeth.
Lastly, the UK's Young Knives, a new-wave indie rock trio, complete with 70s shirts and ties and deliberately terrible hair. I liked the Young Knives, despite the lack of depth more members might provide, and despite my aching back and increasing temperature. Young Knives is an energetic and catchy band with a bright future. Just don't expect them to change the shape of the music world with their uniqueness.
Alëx, IceNews editor
Iceland Airwaves is sponsored by Icelandair, the cheapest way between North America and Europe. Iceland's biggest airline connects 24 top destinations in Europe and North America with their hub at Keflavik in Iceland. For more information, go to www.icelandair.net