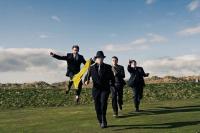 Airwaves kicked off last night, on an unassuming, mild, showery evening when Iceland beat Macedonia 1-0 in the football World Cup qualifiers at home in Reykjavik.
101 Reykjavik was pleasantly buzzing throughout the evening – not with the heavy thrum of a weekend, but something altogether different.
The crowd seemed to be a mix of laughing, drinking foreigners and philosophical Icelanders, only too aware that Thursday is the "unofficial start to the weekend" and not Wednesday. Many, many people seemed to be feeling thirsty for beer.
Anyway – the music. Well, I started off in Organ with a band called Who Knew. And indeed who knew how great they'd be? An enthralling mix of American west coast rock and Scottish Highland fling comes somewhere close; but not quite close enough to describing them. These young guys (probably still in college I'd guess) have a great future together. Tight, tuneful, energetic and with just a dash of humour.
Next it was off to Nasa to see Vicky (formerly Vicky Pollard), one of several girl-based rock bands at Airwaves this year. Vicky's drummer is a real human male, and one guitarist wore a fake moustache, but Vicky is still a thrashing mass of female angst!
Now, getting a big venue like Nasa really rocking as only the second act on the first day of Airwaves would be a challenge for anyone – and so it proved to be for Vicky. Try as I did to love them, I failed somewhat. I mean, the noise was right, the singer was funny and did all the right jumping around and stuff. But I just felt Vicky lacked something.
The band's energy was perhaps a little subdued, the tunes perhaps a little lost in the noise and all the songs perhaps written to a similar formula.
I'd happily see Vicky again, but I probably wouldn't want to pay much for the ticket.
Lastly for me on night one was an off-venue concert at b5. I have long suspected that Ultra Mega Technobandið Stefán might be my favourite Icelandic band of the moment, and now I am proud to reveal that I was right.
It's easy to see how the band's over-the-top sound and crazy, hyper stage show might make some people uncomfortable – but "some people" are clearly idiots.
The hard rock approach to techno disco is just irresistible – you'll either dance uncontrollably, or you'll grin from ear to ear.
Too early to say if Technobandið are the best band at Airwaves – but we have a strong contender!
Alëx, IceNews editor
Iceland Airwaves is sponsored by Visit Reykjavik, the city tourist board. Visit Reykjavik is behind the successful "Reykjavik – Pure Energy" campaign. For more information go to www.visitreykjavik.is, or go to the tourist office at Ingófstorg in person.