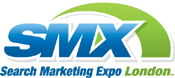 SMX Search Marketing Expos offer a wide selection of workshops, discussions and networking opportunities for industry professionals who want to keep ahead in the rapidly changing world of search marketing.
Organisers of this year's London SMX event recently announced that Microsoft will be delivering the opening keynote session.
SMX has a reputation as the foremost global event for SEO and PPC tactics delivered by big names in search marketing – and organised and hosted by renowned search marketing expert Chris Sherman, the Executive Editor of Search Engine Land.
The session, 'Empowering Search Marketers: The Next Generation', will outline Microsoft's vision of the future of search marketing. Microsoft's development leaders on both the paid and organic side of search, Nathan Buggia and Zhao Hui Tang, will lead a forward-thinking keynote conversation on the next big step in search innovation. The audience will share information on how Microsoft is breaking down barriers and building a powerful new set of tools that move beyond straightforward functionality.
"The past few years have seen the introduction of new features, offering richer search results, personalisation and other tools designed to empower searchers," Chris Sherman says. "Search engines are now shifting focus, preparing new, highly sophisticated tools designed to take marketers to the next level, enabling them to fine-tune campaigns in ways not previously achievable. I am looking forward to discussing the issues and hearing more about Microsoft's plans for the next generation of search marketing."
Sessions include: SEO & Social Media Marketing, Landing Pages & Multivariate Testing, Search Marketing & Persona Models, The Global Search Universe, Fundamentals of Search Advertising, Avoiding PPC Pitfalls, Brand & Reputation Management Strategies, Industrial Strength SEO, Pump Up Your Paid Search, Integrating Search & Display Marketing Campaigns, Buying Sites For SEO, Search 3.0: Video Search & Blended Results, Search 3.0: Local Search & Blended Results and more.
SMX London will be held on 4-5 November 2008 at the New Connaught Rooms, Covent Garden. See www.searchmarketingexpo.com/london/