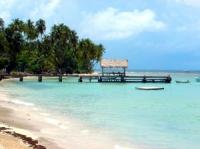 Reports coming out of the southern Caribbean island of Trinidad and Tobago state that an elderly Swedish couple have been brutally murdered at their holiday home on the island of Tobago. Local police believe it was a burglary gone wrong, and have already apprehended two suspects tied to the killings.
The Expressen and the Aftonbladet newspapers first reported on the tragedy. The 62 year-old woman, Anna Sundsvall, was stabbed to death in her home but her 73 year-old husband, Ake Alsoon, managed to survive, only to die soon after in hospital from his injures.
A pair of rubber boots found at the crime scene and an eyewitness helped police track down and arrest a 28 year-old man. Although he has pleaded innocent, Crown Point police officer Fitzroy Frederick told the news agency TT that, "Forensics are working with the issue as we speak and we have made some progress in the case."
The couple bought their home in the scenic coastal area of Bon Accord four years ago. A safe found at the house that was broken open suggests a burglary. The alarm was raised when a nearby security guard on patrol heard screams.