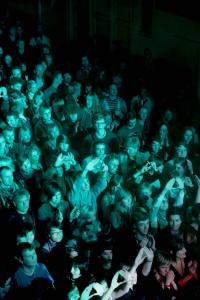 Here is a short update on the first day of Iceland Airwaves…only a few hours to go!
Of the 30 acts playing tonight over five venues, I highlighted 15 as "must see". I am quite clearly not going to be able to see them all. Probably not by a very long way.
So, forced to prioritise horribly, my REAL must sees would have to be:
The pleasingly up-beat, indie radio-friendly tones of Icelandic darlings Jeff Who?.
The rough edged female vocals and hard guitar soul that make Mammút so memorable.
We Made God's peculiar lo-fi, melodic, ambient yet ballsy brand of noise.
And finally, Agent Fresco – a band I know little about, but who won the national Battle of the Bands this year and haven't stopped rocking the live venues since.
I can only hope my choices prove to be prudent and my ears prove to be resilient.
Look out for reviews of whatever I end up getting myself involved in!
IceNews would like to acknowledge the support of Icelandair. Iceland's biggest airline is also Iceland Airwaves' biggest sponsor. The airline connects Reykjavik with 24 top European and North American cities. For more info, visit www.icelandair.net