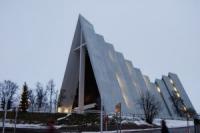 Adding further pressure to Tromso's 2018 Winter Olympics bid, which has proven unpopular among Norwegian citizens and politicians alike, a new report puts the price tag to host the games at double the initial estimated sum. The government asked three accounting firms to give a revised estimate of the original USD 2 billion cost for the project, and they all came back with figures around USD 4 billion.
The original prospectus devised by the booster group promoting the bid failed to include the cost of security or the required Olympic Village, both of which add a hefty amount to the money needed to be a contender. The cost for the far-flung Arctic town of Tromso to host the 2018 games now seems too high to win the support of Norwegians, who are already clambering for improved social services such as better schools and health care from their increasingly cash-strapped government.
According to the newspaper Aftenposten, nearly every political party in Norway is now voicing their opposition to the Winter Olympics bid in Tromso, even though Norway's experiences hosting the games in Lillehammer were very positive. Public support for the 2018 games has been tepid at best, and this new price tag will likely kill off any remaining chance for Tromso.