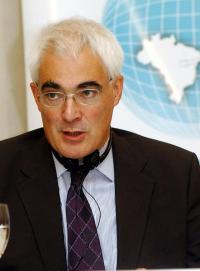 The Icelandic state's liability with regard to Icesave customers in the UK and Netherlands is around ISK 600 billion – equivalent to ISK 2 million (EUR 13,255) for every Icelander. Icelandic Minister of Business Affairs, Bjorgvin G. Sigurdsson says that the sale of Landsbanki assets will go a long way to covering the cost, RUV.is reports.
The Icelandic and British governments are now reported to be working closely together to resolve the issue of returning depositors' savings. Relations are said to be friendly.
Alistair Darling, British Chancellor, said in a press conference this morning that it is extremely important to reach an agreement with the Icelandic government on payment to British savers. Darling said he had met his Icelandic counterpart, Arni M. Mathisen on Saturday in Washington, where they discussed the importance of finalising the deal as quickly as possible.
Before the banking crisis hit, Landsbanki's assets were approximately EUR 32 billion, both in Iceland and abroad. Even selling assets at knock-down prices will cover most of the bank's liabilities today.