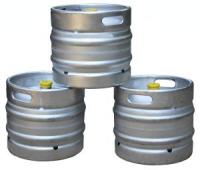 The Danish beer giant Carlsberg has entered into a partnership with a new Russian brewery just opened in the town of Novosibirsk called Baltika. Jorgen Buhl Rasmussen, the CEO of Carlsberg, was on hand for the opening ceremony, commenting to the Financial Times, "it's not often we open big breweries like this. In western Europe no one is opening breweries any more."
The move makes Carlsberg the owner of Russia's largest beer brand after months of rancorous takeover negotiations with its initial joint venture partner Scottish & Newcastle were finally resolved. One of the first marketing moves by Baltika is to become the main sponsor of the 2008 Russian Premier League.
The Financial Times reports that the Baltika brewery itself is a model of innovation and design. Fermentation tanks are enclosed in thick glass to insulate them from the freezing Russian winters which see temperatures drop to -40 degrees C. Russia is in dire need of quality breweries on its home soil. The former Soviet Union showed no interest in beer, so the industry has never had taken off in Russia until now.
Unlike the rest of Europe, vodka far outranks beer as the alcohol of choice in Russia. Carlsberg isn't expecting a huge conversion to beer by locals, but the company believes more Russians will start drinking beer as they become wealthier and associate beer with an affluent worldly lifestyle.