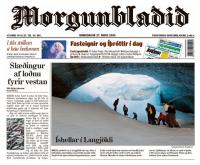 MBL.is reports that Arvakur hf. and 365 hf. have signed an agreement on the merger of Frettabladid and Posthusid Arvakri, the company responsible for Morgunbladid.
Under the deal, Frettabladid will become the freely distributed sister paper of Morgunbladid, and 24 Stundir (the current holder of that title) will be merged into Morgunbladid itself, which is a paid-for newspaper. The deal will mean the loss of dozens of jobs.
The reason given for the dramatic shift in the market is the slump in advertising sales and the record price of printing paper.
Morgunbladid and Frettabladid have been in direct competition, despite their differing distribution methods, since Frettabladid came on the scene in 2001. Their merger would have been laughed off as a joke until recently.
Despite promises of continued impartiality and independence, there are concerns about the merger; as there will now only be one national newspaper outside this newly formed company. The tabloid DV has a comparatively tiny readership and has been plagued by financial troubles for years.