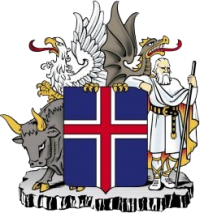 The first Lennon-Ono Peace Prize was awarded this afternoon in a ceremony in Reykjavik on John Lennon's birthday. Yoko is in Iceland to light the Imagine Peace Tower which will shine until 8 December, the day Lennon was shot.
In a rare piece of good news for Iceland, the entire country was chosen to receive the award in light of its many hundreds of years at peace. President Olafur Ragnar Grimsson received the award on behalf of the nation and the USD 50,000 prize that comes with it.
Local media reporters joked that it was a rare and golden opportunity to get get hard foreign currency. But in reality, the USD 50,000 will go straight to the Icelandic Red Cross.
At the ceremony, Yoko Ono expressed her hope that during these tense and difficult times, Iceland and the whole world will come together in the hope for peace as the huge light is lit tonight at 20.00 (GMT).