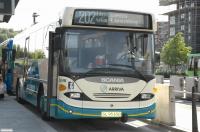 Volvo, the Swedish auto-making legend, has released the world's first commercial hybrid bus. The Volvo 7700 has both a traditional diesel engine and an electric motor which should use 30 percent less fuel than other buses in operation today. The new hybrid will make its debut on the streets of London and Gothenburg this autumn.
The Local newspaper reports that Volvo is using its own hybrid technology, known as I-SAM, in the buses. The intelligent system automatically turns off the diesel engine during a stop, and then uses the electric motor to power it along when it gets going again. Once the bus reaches 15-20 kilometres per hour the diesel engine takes over.
The new 7700 uses a lithium-ion battery which is charged whenever the brakes are used. This provides much of the power used by the electric motor when the bus is starting off. Hakan Karlsson, the president of Volvo Bus Corporation, told reporters that Volvo manufactures all the hybrid components in-house – a new trend in the industry.
"A common approach earlier was that bus manufacturers purchased hybrid components externally and attempted to adapt them to their own bus, but this is difficult," Karlsson said in a statement. "Since we developed the components internally, we have been able to optimise the bus's fuel consumption fully. At the same time we could ensure very high reliability." If all goes well, mass production of the 7700 will begin in early 2010.