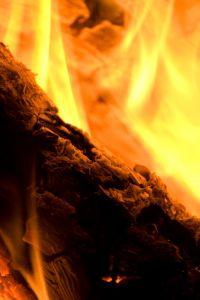 In a classic case of the right man in the right place at the right time, professional fire-eater Zack Segelstrom saved a man from being burned alive in his tent at a Viking festival in southern Sweden. Segelstrom, who holds the Guinness world record for spitting flames from his mouth three metres high, awoke early in the morning to the sounds of screams and the sight of a neighbouring tent in flames.
Segelstrom's experience working closely with fire probably saved the victim's life, as he managed to call the fire department while running to the tent, which had caught fire when a kerosene lamp was knocked over. Segelstrom was able to pull the man, who was suffering from smoke inhalation and burns, out of the tent.
"I wouldn't say that I play with fire, but I work with it. You shouldn't take risks which are too big, as it's a living substance. It's a question of judgment," Segelstrom told the Blekinge Lans Tidning newspaper. The daring rescue happened in the middle of the night. Segelstrom had performed earlier in the day at the Gudahagen Viking market in the town of Nasum.
The Local reports that the injured man was taken to hospital and released in good condition the following day. Segelstrom, who took the whole event in stride, packed up and headed off to his next fire breathing performance.