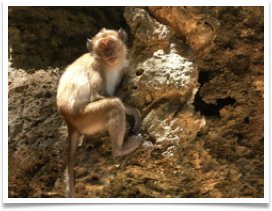 Krabi tours company, Andaman Camp and Cruise offers tours in southern Thailand with an emphasis on giving a taste of the real Thailand, as opposed to just a "tourist's-eye-view".
Andaman Camp and Cruise's Southern Thai Life tour was created to offer visitors a taste of the local daily lifestyle, landscape and culture, instead of just the usual procession of tourist spots.
Formerly called Krabi Island Tours, Andaman Camp and Cruise has been running tailor made tours around Krabi in Southern Thailand for the past five years and now offers extended trips for those who are looking for a real holiday to remember.
Each Andaman camp and Cruise Krabi tour is adapted to the customer's desires and budget. Visitors choosing the popular Southern Thai Life tour can choose from an extensive list of activities, including swimming at a freshwater stream or waterfall, seeing rubber cutting, trekking up a mountain through the jungle and visiting a local school.
Visitors are even invited to see the family monkeys collecting coconuts at the invite of Andaman Camp and Cruise owner Sun and his Australian wife, Elizabeth. Visitors also have the chance to visit a local school or a giant catfish farm, or even to go elephant riding.
Sun and Elizabeth transport their passengers in the back of a songthaew (or covered pick up truck) which are the local style of transport – just to make the tour even more of an adventure. Watching the spectacular landscape rush past from the back of the songthaew, visitors really learn to appreciate southern Thai life.
Andaman Camp and Cruise is a specialist in tailoring Thailand to Scandinavian guests. With a website in both English and Swedish, the company has built up a reputation as the local specialists where Scandinavian tourists are concerned.
Visit the Andaman Camp and Cruise website for more information on Krabi tours. www.andamancampandcruise.com