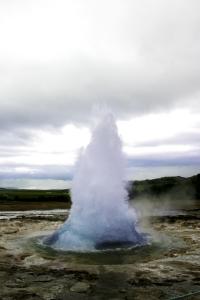 It has come to light that certain bacteria may be able to 'eat' the hydrogen sulphide from geothermal power station steam emissions and thereby reduce pollution. The initial research results look promising, but scientists working at the Hellisheidi power station research lab in Iceland must carry out further research before releasing final results, RUV.is reports.
For the last two years, a small research station has been conducting the experiment at the Nesjavellir power station. In their experiments, scientists passed the geothermal emissions through ten litre containers of different sorts of bacteria to see which was best at removing the hydrogen sulphide.
Jakob K. Kristjansson, doctor of biochemistry, say that the initial findings suggest that bacteria could be useful in cleaning the emissions from geothermal power stations. But it has yet to be confirmed if the method could be economical on a large scale.
To find this out, bigger experiments need to be carried out, which is why it was decided to open a newer and bigger research station at the Hellisheidi station.
Arnthor Aevarsson is a molecular biologist and the chairman of a company called Prokatin which is involved in the research. He says that the work at Hellisheidi will allow researchers to increase the size of the containers to maybe 1,000 or even 10,000 litres, which would amount to about 10 percent of the necessary eventual size if the research were to become common practice.
Arnthor believes it is realistic that bacteria could be used to eat their way trough all the emissions of the entire power station in the future. The new Hellisheidi research station is due to begin operation next year. According to Arnthor Aevarsson, if all goes well, it may only be a few years before the technique can be put into industrial scale usage.
The company Prokatin is owned, among others, by the investment company Areka, Mannvits Engineering and Reykjavik Energy, and has received support from several funds. Reykjavik Energy is reported to want to become more practically involved in the running of the company.