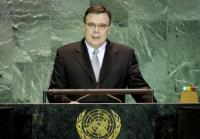 Icelandic Prime Minister Geir H. Haarde will speak on behalf of Iceland in front of the United Nations General Assembly on Friday. The Prime Minister will also meet with UN Secretary General Ban Ki-moon on Friday, according to ruv.is.
Haarde and Ingibjorg Solrun Gisladottir, the Icelandic Foreign Minister, will be in New York to take part in the 63rd annual plenary session of the United Nations General Assembly, an important gathering of world leaders running from 22 to 27 September.
It seems likely that the Icelandic politicians and diplomats will keep very busy meeting and networking with world leaders and other figures to try and secure Iceland a seat on the United Nations Security council.
Iceland is in competition against Austria and Turkey for one of the two rotating temporary Security Council seats available to European countries in 2009. There is roughly a month until the vote when the country will find out if it has been successful.