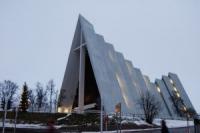 When asked in a recent poll by authorities in Norway if its citizens would support the government spending around USD 5 billion to host the 2018 winter Olympics in the town of Tromso, more than half of them responded negatively. Although the percentage was just 51 per cent against using public funds to pay for the games, it shows that opposition remains strong even after the government tried to give the campaign a boost by placing a former ski star on the board of directors and hiring a new boss, according to Aftenposten.
With only 38 percent of respondents stating that they are in favour of holding the games, and 11 percent undecided, it doesn't look good for the Tromso campaign. Most of positive support came from locals in northern Norway where the games would be held. Norwegians living in the east of the country showed the least amount of support.
This is all bad news for Tromso's dreams of hosting the 2018 Winter Olympics. Gerhard Heiberg, one of the Norwegians on the Olympic Organizing Committee (IOC) told Norwegian Broadcasting NRK "it's important for the IOC to see that there is real public support in the country which applies to have the Olympics." Heiberg feels that Tromso simply needs to try harder to change national opinion to highlight the positive impacts from hosting the Olympics.
The new boss of the Tromso campaign, Petter Ronningen, had harsher words for the poll. "NRK only asked about the costs [of the games], forgetting about the benefits. More neutral polls show that a majority of the population want the Olympic Games in Norway in 2018," Ronningen told NRK.