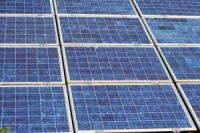 Solel Solar Systems' new USD 9 million solar reflector production factory has opened in Akaa, a town 200km north of Helsinki. The latest alternative energy manufacturing centre in Finland will produce parabolic solar reflectors to be used in Solel's own solar thermal projects around the globe.
Solel built the new factory to "give it almost complete control over the cost, quality and capacity of its solar power technology," according to CleanTech.com. "By producing our next generation of parabolic solar reflectors, this new factory will help us advance our SunField LP solar fields, in Spain and around the world, and provide our customers with guaranteed performance," said Avi Brenmiller, president and CEO of Israel-based Solel.
Solel is creating commercial solar energy plants around the world. It made a deal in 2007 with San Francisco's PG&E power company to buy 553 megawatts from Solel's upcoming Mojave Solar Park in California. The Mojave plant alone will supply the energy needs of 400,000 homes once it's up and running.
With oil prices fluctuating wildly over the last year, and the future of oil and gas security a major concern around the world, producing power from the sun has huge potential. Solel's new factory in Akaa will be able to manufacture 240,000 parabolic solar reflectors per year, a quantity enough for a 50-megawatt solar thermal plant.