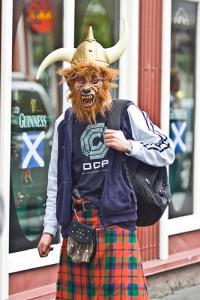 The men's football (soccer) teams of Scotland an Iceland will clash this evening in Reykjavik in both teams' second qualifying match for the 2010 World Cup, to be held in South Africa.
Iceland come to the match in Reykjavik having drawn 2-2 away against Norway on Saturday, while Scotland will be desperate for victory after their surprising 1-0 defeat at the hands of Macedonia in Skopje, also on Saturday.
The Tartan Army has been arriving in Iceland since the weekend, MBL.is reports. 1,100 tickets have already been sold to Scottish fans, with more expected to buy tickets at the stadium.
Icelandic FA officials believe the Laugardalsvollur stadium will be full or nearly full for the match. Iceland is bracing itself for the friendly Tartan Army onslaught – the avid Scotland football fans famous for making more friends than enemies.
Scotland have not appeared at a World Cup or European Cup since 1998, when the Scottish and Jamaican fans were equally praised for the fun and good behaviour they brought to the championship. Iceland have not yet made it to the finals of either competition.