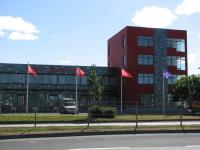 Self-catering holiday apartments tend to be cheaper than hotels and offer greater independence and freedom; but hotels have important things like 24 hour reception, internet access, a bar and tourist information. Hotel Hafnarfjordur's website boasts that, as an 'apartment hotel', their guests benefit from all the above and more.
The old fishing town of Hafnarfjordur is ideally located for apartment hotels in Iceland. Perched by the sea, on the edge of a breathtaking lava field on the way to the airport and just a few minutes drive from Reykjavik, Hafnarfjordur is a great base for holidays to Iceland.
Furthermore, Hotel Hafnarfjordur's airy modernity contrasts well against the old-fashioned charm of central Hafnarfjordur.
The carefully styled Hotel Hafnarfjordur apartment hotel provides a wide range of apartments from simple singles all the way up to suites. However big or small, they are all clean, bright and airy – and all enjoy the same great level of service from the friendly staff.
Old town Hafnarfjordur blossoms out from the busy harbour in a jumble of brightly painted old timber houses. The intimate harbour is always awash with boats, and the town centre boasts a pleasant stream full of ducks and small fish, an eclectic mix of shops and boutiques, as well as many excellent options for eating and drinking.
Guests staying at Hotel Hafnarfjordur have a peculiar advantage over those staying in the capital city: namely that visitors staying in Hafnarfjordur find it extremely easy to visit Reykjavik as often as they like; but visitors staying in Reykjavik very often miss unique and beautiful Hafnarfjordur altogether. Ignorance may be bliss, but visitors to Hafnarfjordur know better!
The Icelandic apartment hotel's easy to use website holds a great deal of information on Hotel Hafnarfjordur, including prices, a description of facilities and an extensive collection of photographs to help prospective guests find a feel for the place. More details are available at www.hhotel.is