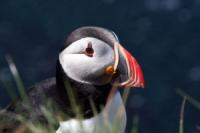 Frettabladid reports that two young residents of Iceland's Westman Islands, Sunna Georgsdottir and Anna Mary Gudmundsdottir found four pufflings Sunday evening and took them for weighing at the Westman Islands Museum of Natural History.
Everyone who finds pufflings wandering the islands should take them for weighing as part of the Puffling Survey – scientists' way of assessing the state of the puffin population on the Westman Islands.
"There weren't many pufflings this year. They are nearly all dead," says Erpur Snaer Hansen, biologist and tutor of puffin research at the Nature Centre of Southern Iceland.
The Nature Centre of Southern Iceland has been monitoring 226 puffin nests this year. Hansen says the pufflings have been dying off quickly and only around 20 percent of them remain healthy.
"Those which are left now are so small that there isn't much hope for them out at sea. The reason for the bad hatching season this year seems to be that there were not enough sand eels and that the birds just died of hunger," Hansen adds.