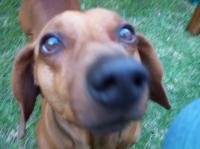 The 9th annual Mobile Phone Throwing World Championships, which were held in Estonia this year, ended with a pet dog taking the top honour. A Finn, two Estonians, and Cara the dog won their respective categories in this popular Finnish-created event.
For the first time in the history of the prestigious competition, the event was held outside of Finland in the Estonian town of Narva. More than 50 competitors from around the world travelled to Narva to prove they could toss a mobile phone farther than anyone else on the planet.
Perhaps due to their home soil advantage, the Estonians dominated the competition this year winning both the men's and women's categories. Timmo Lilium took the men's category by hurling his mobile phone 85 metres, while Valeria Kadorova won the women's group with a toss of 41 metres.
Finland, however, was not completely brushed aside by the rest of the field, as 12 year-old Riku Kankkunen captured the children's category with an impressive throw of 55 metres. The most surprising competitor, however, was a dog named Cara who won the freestyle category by spitting her phone a whopping 30 centimetres. For form and style, Cara received full points from all of the judges, effectively making her the overall winner in this year's competition. Next year's event will return to the Finnish town of Savonlinna.