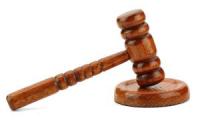 Christine Schurrer, a German national, was found guilty in a Swedish court of murdering two Swedish infants and critically injuring their mother during a brutal attack sparked by jealousy over her ex-boyfriend. The 32 year-old woman is currently awaiting her sentence pending a psychological evaluation.
The judges decided the circumstantial evidence presented was sufficient to prove that Schurrer broke into the home of her ex-boyfriend's current lover in the central Swedish town of Arboga and committed the murders. Using a "hammer or hammer-like object" Schurrer repeatedly struck the toddlers and their mother with full intent to kill.
Schurrer pleaded not guilty to the charges, claiming that she had nothing to do with the murders. She will now undergo a 4-6 week psychiatric evaluation before the court decides on her sentence. The children, aged one and three, died from their injuries but the mother survived and gave her testimony at the trial.
Although much of the evidence is circumstantial, as the murder weapon was never found and no DNA evidence links Schurrer to the crime, the prosecutor pieced together a comprehensive case against the German using some 50 witnesses and video evidence.
The defence is considering the options for an appeal.