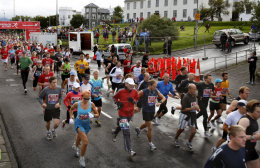 The Glitnir Reykjavik Marathon attracted 10,719 runners on Saturday who competed in the full marathon, half marathon and 10 kilometer race. 639 people competed in the full marathon.
David Kirkland from Great Britain won the men's full marathon in 2 hours 32 minutes whilst Rozalyn Alexander, also from the UK, won the women's in 3 hours. A great achievement was accomplished by Romana Eder, a 103 year old woman from Austria, who completed the full marathon in just over 4 hours. The weather was overcast with light rain but conditions were said to be ideal for running.
Glitnir Bank, a leading Nordic financial group, sponsored the marathon again this year. Glitnir is also the main sponsor of the annual Copenhagen Marathon in May and the next race will be held on May 24th, 2009.
For full details of the upcoming Glitnir Copenhagen Marathon visit http://www.copenhagenmarathon.dk .
For information on all race times visit the Glitnir Reykjavik Marathon website.