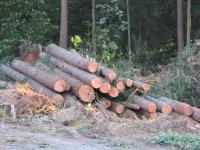 The World Wildlife Fund (WWF) has accused Finland of importing wood which has been sourced illegally. The Nordic country is one of the biggest timber importers in the European Union and one of the largest paper manufacturers in the world.
The WWF believes that around 20 per cent of the timber which is imported into the EU each year has been illegally logged. The organisation stated that in 2006, around 30 million cubic metres of illegal wood made it into the EU, mainly from Russia, China and Indonesia. Finland alone imported more than 5 million cubic metres of suspect timber from Russia, which ended up in the country's paper mills.
"Illegal logging destroys the protective function of forests, increasing risk of natural disasters such as floods and landslides, and leads to deforestation, one of the main causes for climate change," WWF forest policy officer Anke Schulmesiter stated.
The trade of illegally cut timber also brings down the price of legitimate wood. But starting this autumn, any timber imported into the EU must come with a certificate testifying to its legal origins. The WWF has been calling on the EU to create better legislation to deal with this global problem.