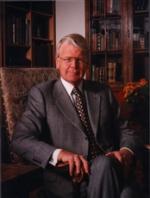 Mr. Olafur Ragnar Grimsson was sworn in for his fourth term as the president of Iceland on the 01.08.2008.
The ceremony started with a church service in the Reykjavik cathedral and the inauguration did take place in the Parliament House, Alþingi.
As usually the president of the Icelandic supreme court delivered the testimony for the next term and was followed by a speech by the President.
The ceremony was attended by the ministers of the Icelandic government, judges of the supreme court, members of the Parliament, ambassadors and high officials as well as the family of the president.
Olafur Ragnar is the fifth president of the republic and was first elected in 1996, assuming office on August 1st that year. He was re-elected in 2000, again in 2004 and now in 2008.
Former presidents are:
Sveinn Björnsson (1944-1952)
Ásgeir Ásgeirsson (1952-1968)
Kristján Eldjárn (1968-1980)
Vigdís Finnbogadóttir (1980-1996)