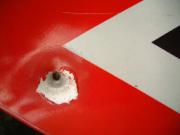 Five Chechens suspected of attacking refugees at an asylum centre south of Oslo have been detained by Norwegian police. Various weapons were used against Kurdish asylum seekers by a mob of around 50, wounding 23 Kurds.
Local police have confirmed that five Chechen men between 21 and 43 years old were taken into custody to be questioned about the attack. "All of the detainees are of Chechen nationality," Norwegian police said in a statement.
The incident, which involved between 40 and 50 Chechens armed with knives, machetes and steel bars happened at the Nordbybraaten asylum centre in the village of Vaaler. While the police gave no immediate reason for the attack, one official at the centre, Ole Morten Lyng, stated that a "minor dispute" between Chechens and Kurds caused the attack.
Lyng went on to tell national broadcaster NRK radio, "they went into the rooms and pulled out Kurds and beat them up." Officials stated that 23 Kurdish asylum seekers were taken to hospital for treatment of broken bones, head injuries and shock, but nothing life threatening.
The centre currently houses more than 200 people from Iraq, Iran, Afghanistan, Russia, Somalia and Eritrea. Investigators believe that ethnic tensions were at the root of the incident. The attack was the second against refugees in Norway in as many weeks.