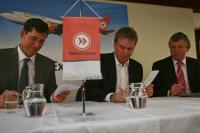 Icelandic low-fares carrier Iceland Express signed an agreement this week in Reykjavik which will see the introduction of two Boeing 737-700 aircraft in September.
The airline says the new Boeing planes are more environmentally friendly, economical and reliable than the MD90 aircraft currently in use. The 737 aircraft are expected to use up to 40% less fuel per hour, greatly reducing the company's operating costs and carbon footprint.
In future all planes flying for Iceland Express will be either Boeing 737 or 757s, a development which will improve staff training and aircraft maintenance the airline says. The Boeing 737 is one of the most sold passenger jets in the world, with over 6,000 aircraft having been produced.
Astraeus Airlines, Iceland Express' associate company, will own and operate the new Boeing 737 aircraft which will replace the current stock of MD90s.
Signing the agreement were Shaun Monney, CEO of Astraeus Airlines, Matthias Imsland, CEO of Iceland Express and Mark Norris, sales director for Boeing in Europe, who came to Iceland especially for the event.
Iceland Express is Iceland's only budget airline and connects Iceland with 14 European airports including London, Berlin and Copenhagen.
For more information on the Icelandic budget airline, visit www.icelandexpress.com