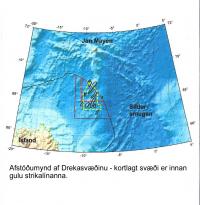 Very positive signs of oil have been found at the Dreki Area, on the Jan Mayen Ridge of Iceland. As reported last year, the Icelandic government intended to open the Dreki region for oil and gas exploration in January 2009.
The Icelandic oceanographic research ship Arni Fridgeirsson recently came from the area after mapping around 10.500 m2 of the area with advanced research scanning technology found strong indications of oil. Among the strong signs found are the same holes as found in the North sea and among them holes 15 meters deep and around 700 meters deep.
Such holes have been research heavelly by scientists and have been one of the indications of oil at location. Finding gas or oil sites would have a significant effect on the largely fossil fuel-free Icelandic economy. Iceland currently uses geothermal and hydroelectric energy for 99 per cent of its energy production.
For more information on the research go to the Icelandic marine research institute web site.
The first Iceland Oil Exploration Conference will be held in Reykjavik on September 4-5, 2008.
The first exclusive licensing round in Icelandic waters for the exploration and production of hydrocarbons, will be done in the northern part of the Dreki area on the Jan Mayen Ridge, northeast of Iceland, early 2009.
?