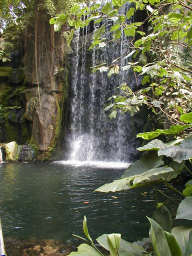 Bottled water giant Fiji Water has closed operations following the interim government's decision to levy a 20 cents per litre tax on all bottled water, reports the Fiji Times.
The closure follows other water companies based on the South Pacific islands of Fiji who say they can no longer operate under the new tax.
Fiji Water is the second-largest imported bottled water brand in the US and has not been exported since July 1st.
"We have had to stop the purchase of raw materials and have nearly exhausted our supply of empty containers to load. We have been left with no choice but to stop all production and have shut down our factory," Fiji Water said in a statement.
Fiji Water, which is sold in upmarket stores and restaurants and has appeared in many popular television shows, has been at the centre of controversy surrounding the bottled water industry in Fiji.
In February, an investigation by BBC Panorama reported that one third of inhabitants on Fiji do not have access to clean drinking water, with many people falling ill or dying due to typhoid and other contaminated water diseases.
It also revealed that the source of Fiji Water in the Yaqara Valley was originally discovered with British aid money as part of a plan to find water for local people.