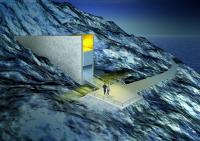 A diverse delegation of VIPs from the US will travel to Norway's Arctic archipelago of Svalbard this week in an attempt to learn more about global warming and climate change.
The group of Americans comes as a high profile nod from politics and business at a time when climate change is being taken increasingly seriously in the USA. CNN founder Ted Turner, Google founder Larry Page, billionaire philanthropist George Soros, former Secretary of State Madeleine Albright and ex-US President Jimmy Carter are just some of the well-known faces in the delegation.
The focus of the trip, which was organised by the National Geographic Society, is to examine the revolutionary Global Seed Bank that opened this February. The monumental facility houses seed samples from across the globe.
When it was opened, the seed bank on the remote island of Spitsbergen contained 268,000 different seed samples, each one from a separate farm to ensure diversity. The Svalbard Global Seed Bank is the first step in a novel attempt to preserve the earth's biodiversity, which is vanishing at an alarming rate.
Crop diversity is essential for future food production. This will protect mankind's food from disease and pests which could eradicate an entire species of crop. The seeds are housed in a 'fail-safe' vault which has been dug deep into a frozen Arctic mountain. Scientists expect the vault to be secure for centuries.
For security reasons, the delegation from America will not be allowed to enter the actual rooms where the seeds are kept.