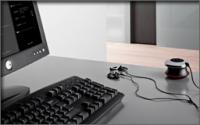 Bang & Olufsen, the Danish manufacturer of stylish, top-end stereo systems and televisions, is losing ground to companies like Sony and Samsung, who offer aesthetic gadgets at much lower prices.
Despite having carved a niche of its own in the massive electronics market, Bang & Olufsen is facing stiff competition as consumers migrate to cheaper goods. Bjorn Schwarz, chief analyst at Sydbank, observes that "even rich consumers are asking themselves why they should spend four times more for a B&O product when competitors are offering equally sophisticated products."
The irony is that B&O will lose its 'raison d'être' if it attempts to drop its prices to compete with other manufacturers. This has left the 83-year-old Danish company with a major dilemma. Its net profit dropped four-fold during the third quarter (December to February), prompting an abrupt sacking of the chairman.
This bold move did little to allay market fears, causing B&O shares to tumble 75 percent since 1st January 2007. Some analysts suggest B&O needs to move into new markets like Asia and the Middle East. Others feel the company should come up with a new product line that is cheaper and less exclusive than its current catalogue.
Despite the obvious signs of distress, B&O's Chairman of the Board Jorgen Worning insists that "B&O is not in crisis." Investors may disagree.