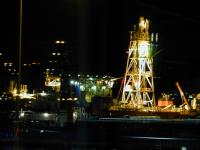 In a bid to expand its upstream oil and gas assets, Centrica recently purchased its first Norwegian gas assets from Marathon Oil for GBP 190 million. The gas and oil fields are located in the Heimdal region of Norway's North Sea. The deal includes a number of producing fields, as well as discoveries and exploration prospects.
Centrica, which is the UK's largest domestic energy supplier, hopes to use its own fields to supply around 40 percent of its gas in the coming years. Currently, the energy giant is only able to supply between 20 and 25 percent of its energy needs from its own upstream sources.
Sam Laidlaw, Centrica's chief executive, said that "this investment is in line with our strategy to reduce the group's exposure to movements in gas prices through securing additional upstream assets."
The gas which is presently being extracted from the Heimdal fields is contracted at UK prices until 2011. Beyond that date Centrica has stated that the gas could be sold to continental Europe.
Oil & Gas UK, an industry association, estimated that North Sea production will effectively be finished by 2020 if no new fields are developed.
Malcom Webb, chief executive of Oil & Gas UK, said "there is little doubt that the need to maximise recovery of the UK's remaining oil and gas reserves is a matter of national importance and one that is well understood by government at its highest level."