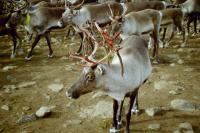 Since its inception 17 years ago, the Riddu Riddu Festival has grown into Norway's largest First Nation gathering. The annual event is held in the town of Manndalen and is one of the few occasions in the world when different aboriginal cultures can meet.
What began as a protest by Sami youths who saw their elder generation turning their backs on the time-honoured traditions of their culture, has evolved into a celebration of aboriginal roots generally. The festival is dominated by musical performances and colourful costumes, with exhibitions, workshops, meetings, plays and concerts scheduled throughout the festival.
"Riddu Riddu is a good place for anyone who wants to check out their ethnic roots," says Raghild Dalheim Eriksen, the festival's organiser.
Norwegian Lene Hansen certainly agrees. She was one of the first in Norway to wear a newly-designed traditional Sami outfit. Although her family is mostly assimilated into Norwegian society, and offered scant support for her interest in rediscovering her roots, Lene followed her heart.
Riddu Riddu is open to all aboriginal groups from around the globe. The festival director has recruited the Grammy Award-winning singer Angelique Kidjo from Benin in Western Africa to headline the show this year.
Dalheim Eriksen hopes that future Riddu Riddu festivals will attract even more First Nation stars. "Our festival really deserves a world famous star. It was like a dream come true when she [Angelique Kidjo] accepted our invitation," he commented.