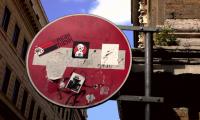 Paul Ramses is a Kenyan refugee. He feared for his life in his homeland and came to Europe hoping for a safe haven.
After unsuccessfully running in Nairobi city council elections in December, Ramses has been beaten and persecuted by his political opponents.
With his pregnant wife, Ramses fled for Iceland in January and was reportedly told by the immigration authorities that he was eligible to apply for political asylum in the country.
However, last week he was arrested and prepared for deportation, as his application had apparently been rejected.
Under European rules Iceland deported Ramses to Italy, as that was the EU country that granted his original visa. Iceland participates in many EU institutions and conventions due to its membership of the EEA (the 27 EU countries plus Iceland, Liechtenstein and Norway).
In sending Paul Ramses to Italy, Iceland has followed standard procedure. But each country is also allowed to grant asylum to applicants in special circumstances, based on the applicant's links to the country.
Ramses' supporters believe the fact that his son was born in Iceland and still lives in the country with his mother, counts as a special circumstance. They also point to the fact that Ramses came to Iceland on account of having worked on projects in Kenya with an Icelandic charity and the Foreign Ministry. Ramses lived in Iceland for a while in 2005 and has many friends in the country.
Human rights campaigners in Iceland hope that Italian authorities will grant Ramses asylum and allow him to remain in Europe; not just because of the risk he faces in Kenya, but also because his wife and one-month-old son are still in Iceland.
"I find the treatment of Paul Ramses and his family disgusting," said Dane Magnusson, head of Iceland's Anti-Racism Association. "I don't understand how the people behind the decision (to send Ramses to Rome) can live with themselves and sleep at night."
Paul Ramses is being held in a facility with other asylum seekers near Rome while Italian officials deal with his case. He is said to have little personal faith in the Italian system and worries he may have seen his son for the last time. Icelandic authorities are now trying to help keep him in Europe.
Last Friday, Iceland's foreign minister, Ingibjorg Solrun Gisladottir, is reported to have instructed Iceland's ambassador to Rome to personally oversee the case and assist Mr. Ramses as much as possible.