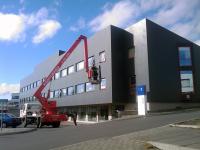 FL Group announced today that it has been rebranded as Stodir and has acquired of a 39% stake in the Baugur Group under the new name. With the transaction, Stodir´s equity will increase by ISK 25 billion.
The transaction was conducted by means of a share swap and issuance of new shares in Stodir. The completion of this transaction is subject to shareholder approval at Stodir's shareholder meeting, scheduled for late July. Stodir´s largest shareholder is Styrkur Invest which is majority owned by Gaumur.
Baugur Group recently sold off all its assets in Iceland and has said it will focus only on retail investments in the UK, Scandinavia and the US. Baugur's core operations will be managed out of London and its largest retail investments include Iceland, House of Fraser, Mosaic Fashions, Hamley's, Whistles, Goldsmiths, Magasin du Nord, Illum and Saks.
Further financial information about Stodir will be provided when Stodir presents its second quarter results on 29 August.
For more information on Stodir visit www.flgroup.is