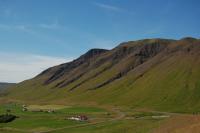 While the weakened Icelandic krona is causing low economic growth, there is good news for the travel industry. With the krona at its weakest in five years against the US dollar, tourists are finding the country a particularly affordable travel destination.
So far the summer season has got off to a good start, with many businesses reporting more bookings than usual. The weakness of the krona against the euro means that accommodation is now up to 30 percent cheaper.
"There is a large increase in direct booking with out travel agencies. The main reason for this is that the travel agencies have been selling tours on fixed prices in foreign currencies so therefore the traveller doesn't get the benefits of the low rate of the krona. Today, Icelanders are offering accommodation which is 30 percent cheaper than last year," said Fjolnir Torfason, owner of a farmhouse called Hali.
The US dollar has bucked trends, to move to a five year high of 85.57 against the krona, while falling against most other currencies. This comes as news has emerged of slower wage increase of 0.4 per cent (month-on-month), and 7.9 per cent annually. The OECD forecasted earlier this month that Icelandic growth would slow sharply to 0.4 per cent this year.