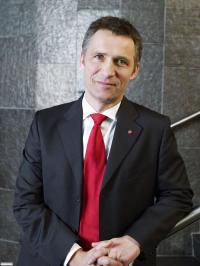 Norway's Prime Minister Jens Stoltenberg is suffering an apparently ever-decreasing popularity rating among the electorate.
A day after shaking up his cabinet to shore up support in his coalition, a public opinion poll delivered a damning verdict on his popularity.
The most recent scandal involves the forced resignation of one of his key members over building code violations and health issues. A healthcare crisis was at the centre of his cabinet reshuffle and is likely to be the issue that buries the government at the next election unless it is sorted out soon.
His Labour party lost another 2.4 percentage points in the poll, bringing to a low of just 26.4 percent of the voters supporting him. His government partners (the Socialist Left and Center Party) have 6.5 percent and 5.3 percent respectively, while the rightwing Progress Party, gained nearly six points to capture 30.7 percent of the vote.