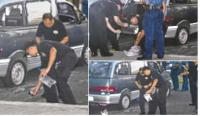 A 61-year-old Swedish man was found burnt to death at his home in rural Cebu province along with his 35-year-old Philippine wife, and their two children, ages 5 and 2. The motive for the murders is apparently theft resulting in arson.
Kerosene and shell casings were found at the scene of the crime, along with an open cash box, with some gold coins still inside. Currently no suspects have been named.
The retired Swedish military officer was found in the garage of his charred home, while his wife was discovered on the ground floor and the two children on the first floor.
"We have received information through the media, but Philippine authorities haven't contacted us with respect to this," said Swedish foreign ministry spokesperson Kent Oberg to the TT news agency.