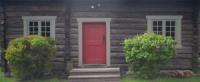 Norway's Crown Prince and Princess recently purchased a modest hytte on a private island off the southern coast of the country and have announced that they will not be renovating or expanding the house.
The couple paid NOK 9 million (USD 1.8 million) for the 1960's-era holiday home. The building is located on Flatholmen, close to Risor. The home is just 60 square meters, in the style Norwegians refer to as a hytte.
After news of the purchase broke, most members of the public believed the couple would extensively renovate the home, perhaps even tear it down for a more spacious home. Although regulations on developments on the coast are quite restrictive, local authorities pledged to remain cooperative with any plans the royal couple might have proposed.
Instead, palace officials told local newspaper Aftenposten that the royals had "no plans" to rebuild or restore the hytte. The couple and their three children may live a relatively normal existence far away from luxurious royal trappings.
There has been no comment to date from the police who are responsible for the royal family's security. The family of five will be living in a three bedroom space with no room for the police to stay with them. Instead, Aftenposten predicted police may sleep on moored boats near the hytte.