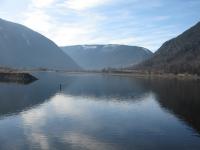 A British tour company recently announced the launch of a new service which will connect passengers to their Nordic cruises for free. The UK-based Voyages of Discovery is offering a number of free flights for their cruises this summer.
Voyages of Discovery is a destination-led specialist which offers travellers more than the average cruise. Passengers can chose to enrich their travel experience with informal onboard lectures in order to learn more about the landscape through which they travel.
In mid-June, the company is offering the Fjords, Faroes, Fire and Ice II cruise which explores Norway's fjords and the geysers of Iceland. The cruise takes passengers near the Arctic Circle where the summer days are long and offer plenty of sunlight to enjoy the spectacular arctic views.
The Land of the Midnight Sun tour also leaves in mid June and offers travellers the chance to see seals, whales and a variety of birds flying through the breathtaking scenery of the Norwegian fjords.
The 14-day Baltic Treasure cruise takes in both Scandinavia and Russia while the 11-day Norwegian Fjords and Scottish Islands cruise offers a shorter itinerary but no less dramatic scenery.
Prices for all of the cruises mentioned include a free connecting flight from Dublin to London Stansted with Air Dublin. Prices also include meals, taxes, and a coach transfer as well as on board lecturers. Single travellers will not be charged a single supplement.