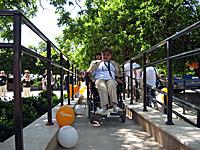 Actavis, a generic drugs manufacturer based in Iceland, has completed the latest project in its campaign to make some of Bulgaria's most important spiritual buildings more accessible to disabled people.
The new disabled access ramp to Varna's Dormition of the Theotokos Cathedral (Uspenie Bogorodichno) now means that the region's largest church is accessible to disabled visitors. It follows the opening of Actavis first disabled access at the Alexander Nevski Cathedral in Sofia last year.
Due to the architectural and cultural importance of the cathedral, a group of international specialists in restoration advised in the building process and matched the ramp to the overall style of the church.
Special marble in the art-deco style with dark grey and pink colours was used for the ramp facing the ancient coral pavement of the overhead road. The cost of the ramp amounts to BGN 200,000 (USD 160,000).
During the opening ceremony at Varna Cathedral, Donna Steiger, Chairman of the International Tribunal of crimes against humanity for disabled people, awarded Actavis for its "contribution to global development and special merits for cultural and social priorities for 2008". The award was founded by the USA Senate and the UN.
For more information on Actavis, visit www.actavis.com