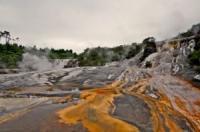 In a recent interview with Itar-Tass News Agency, Iceland's Minister of Foreign Affairs, Ingibjorg Solrun Gisladottir, spoke about the possibilities for increased cooperation between the Nordic nation and Russia, particularly in the field of geothermal energy.
During the interview, Gisladottir said: "The issue of cooperation between the two countries in the energy sector, first of all in the geothermal energy, has been considered."
She continued: "Iceland has great experience and knowledge in this sphere, and there is a great potential here for the two countries' cooperation in development of some geothermal springs on the territory of Russia."
The possibility for cooperation between the two countries has been discussed in the past. In May this year, Viktor Tatarintsev, Russia's ambassador to Iceland said that there was a great potential for cooperation between Iceland and Russia in the development of geothermal energy.
Iceland's experience, according to Tatarintsev, could prove valuable to Russians working to develop geothermal projects in Kamchatka and the Krasnodar Territory.
Representatives from Iceland's geothermal sector first made contact with Russian colleagues in 2007 when the mayor of Reykjavik and a team of delegates visited Moscow. At that time, members of Iceland's geothermal branch met with members of the Russian Hydro OGK.
Icelandic experts in the geothermal field visited Kamchatka at the end of May this year and offered their assistance to developing the geothermal springs there.