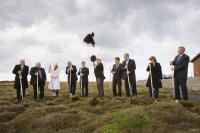 Ground was broken at a ceremony marking the beginning of construction for a new aluminium smelter at Helguvik cove in southwest Iceland on Saturday.
Ten dignitaries and special guests armed with spades took part in the ground breaking ceremony, marking the beginning of Iceland's fourth aluminium smelter. The smelter will be run by Nordural, a wholly-owned subsidiary of US giant, Century Aluminum.
The building commences without Nordural having obtained a licence for the operation of a smelter at Helguvik, or the relevant permits to emit large amounts of greenhouse gases. Opponents of the scheme say the building work is therefore illegal, and being undertaken in the hope that obtaining permission and permits will be easier if the plant is already under construction.
With just two smelters operational in 2003, Iceland already had the world's highest aluminium production per capita of the population (260,000 tonnes and 300,000 people). Alcoa, Alcan and Nordural currently operate one smelter each. If current plans all come to fruition, the country will increase production to over 1.5 million tonnes per year.
In addition to Nordural's new Helguvik plant, investigations are at an advanced stage for Alcoa's possible new smelter project in Husavik, northern Iceland. And as Alcan was refused the right to nearly double capacity at its plant outside Hafnafjordur last year, the company is now looking into the possibility of building another plant.
Iceland attracts aluminium companies due to its abundance of clean renewable electricity – as aluminium smelting is extremely energy intensive, and the companies are looking for ways to reduce their carbon footprints.
However, the energy production often comes at a high cost to nature, as rivers are dammed or geothermal boreholes are drilled. One such dam, Karahnjukar, is the biggest in Europe and was constructed solely to power the Alcoa smelter in eastern Iceland which opened last year.
The dam was severely criticised by environmentalists, as it flooded a 57 square kilometre area of the pristine Highlands. A public protest rally in Reykjavik just days before the new dam was due to close its sluices for the first time was the biggest in the country's history.
Event organisers, headed by a famous television journalist who later formed a short-lived environmental political party, had little hope of halting the dam at that late stage. The event was seen as a wake-up call for the pro-industry government though – and many hoped it would stop plans for more smelters already on the drawing board.
Environmentalists blame the government for not listening to the people and for selling out the country to foreign industry at very little financial gain. The government points to local job creation and increased exports as positive aspects.
The Prime Minister, Geir H. Haarde believes that it is Iceland's responsibility to use its energy potential responsibly, stating that if aluminium was not produced cleanly in Iceland, it would surely be produced from "dirty" electricity elsewhere.
One thing both sides can agree on is that huge aluminium smelters do not look nice, and will do little for Iceland's reputation as an unspoilt tourist destination.
Both sides also agree they want Iceland to grow and prosper; but they can't agree on how. Heavy industry offers a tangible, proven method of economic progress – but is it now an old fashioned notion? And will it damage Iceland's environmental reputation? Opinion is divided.